Hornblower Cruises San Diego
Get the best views of San Diego by taking a San Diego harbor cruise. Hornblower Cruises offer multiple cruises around San Diego daily. Choose from a one or two-hour harbor cruise, dining cruise, brunch cruise, or even a Sights & Sips Cocktail Cruise. If you're looking for something closer to Los Angeles, we also offer a Newport Beach dining cruise and a Marina Del Ray dining cruise. Book San Diego harbor cruises in advance to secure your spot early.
FEATURED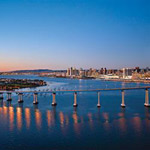 Hornblower Cruises & Events • 970 N. Harbor Drive • San Diego, CA 92101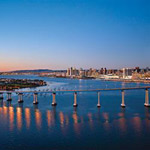 Enjoy the best sightseeing on San Diego Bay—with a professionally narrated tour of more than 50 storied landmarks. We'll cover over 13 miles on the Big Bay, passing by Seaport Village, Shelter Island, ship-building and dry-docking facilities, Coronado Island, Point Loma, and Cabrillo National Monument, among many others. As we sail, we'll see delightful marine animals and majestic sea birds, and we'll talk about what local environmental efforts are doing to protect them. You'll have plenty of opportunities to capture all the sights in photos and video, and our fully stocked snack bar is always open.
1 and 2 hour Harbor Cruises with 7 departures daily!

One Hour South and One Hour North Bay Cruise & Sea Lion Adventure:
• 13-mile tour of the north or south bay.
• More than 20 landmarks, historic sites and environmental interest points

Two Hour Full Bay Cruise:
• Includes all the sights of the North and South Bay Cruises!
• More than 50 landmarks, historic sites and environmental interest points
• 25-mile tour of the North and South Bay

All Cruises Include:
• Onboard experts providing a live, professional narration
• Comfortable indoor and outdoor seating with climate controlled indoor viewing and spacious outer decks
• Snack bar including full bar with adult beverages
• Souvenir boarding photos available for purchase
• Onboard exhibit featuring environmental and green facts and features on San Diego Bay, as well as local marine wildlife.

DAILY CRUISE SCHEDULE: (Sea lions sightings are not guaranteed but are most often seen on the North Bay Route.)
1-hour tours: 10:00 AM, 11:15 AM, 12:30 PM, 1:45 PM, 3 PM, 4:15 PM, *5:30 PM
2-hour tours: 10:00 AM, 11:15 AM, 12:30 PM, 1:45 PM, 3:00 PM, *4:15 PM
*Summer only. North Bay Routes in bold
Please arrive 30 minutes prior to tour time.
Harbor Cruises board at San Diego Navy Float 970 N. Harbor Drive, San Diego, CA

You Save:
$7.00

Select Tickets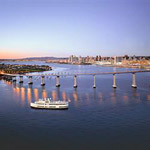 Hornblower Cruises & Events • 1800 North Harbor Drive • San Diego, CA 92101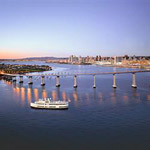 There's a lot in life to celebrate. So welcome aboard! Whatever the occasion, you'll enjoy gentle bay breezes, glittering waves, and the dramatic San Diego skyline. Whether it's your birthday, anniversary, or you finally found a great babysitter, join us for gracious hospitality and stunning views.

San Diego Dinner Cruises
Nightly 3-Hour Cruise
Celebrate in a extraordinary way with a deliciously different dining experience, complete with spectacular views, aboard an inviting yacht on San Diego Bay.

San Diego Brunch Cruises
Sundays 2-Hour Cruise
San Diego Brunch enthusiasts are always seeking a new experience. Hornblower Brunch is one of a kind. Celebrate with a brunch cruise on San Diego Bay.

Sights & Sips Cocktail Cruises
Friday and Saturday 2-hour Cruise
Grab your friends and board this unique sunset cocktail cruise, each Fri. and Sat. It's the coolest happy hour on the bay. Great views, great people!

You Save:
$0.00

Select Tickets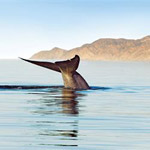 Hornblower Cruises & Events • 970 North Harbor Drive • San Diego, CA 92101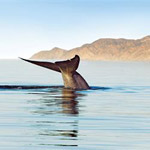 If you love whales, dolphins, sea lions, and sea birds, hop on board for a breathtaking experience on the open ocean. We'll speed out to sea on one of our large, comfortable yachts and pass barking sea lions and pods of leaping dolphins as we search for the legendary blue whales. As we make our 4-hour tour, we'll be treated to a live narration by our experienced captain and our on-board naturalist (from the San Diego Natural History Museum). You'll stay cozy and comfortable with both indoor and outdoor seating and a snack bar featuring hot food, a full bar, and souvenirs.

WHAT YOU GET:
4-hour Whale Watching excursion in San Diego
Opportunity to spot whales, sea lions, dolphins and harbor seals
An exclusive look at local environmental efforts
Professional live narration on marine life from our expert captains and volunteer naturalists from the San Diego Natural History Museum (theNAT)
Snack bars featuring hot food, full bar and souvenirs
Climate-controlled indoor seating
Views of famous San Diego landmarks

CRUISING ON FRIDAY, SATURDAY, SUNDAY, MONDAY
BOARDING: 8:45AM CRUISING: 9:00AM-1:00PM

NOTE: The whale watching vessel cruises in the open ocean. Our yacht is the most comfortable yacht in San Diego, due to stabilizers that greatly reduce the yacht's motion. Still, if seasickness is a concern, getting fresh air on the sun deck or taking over-the-counter anti-seasickness medicine prior to your cruise might help.

No outside food or beverage is allowed onboard the yacht. For your convenience, we have a fully stocked snack bar and full beverage bar available to purchase on board.




Now Searching...

---
"

Great service. Very professional. They took care of my request very timely and sent a confirmation promptly. I was very pleased.

"
–
Cave Creek, AZ
Read More »