Stuff your carry-on luggage, and hop on the plane, because we've only got 3 days to enjoy San Diego for an extended weekend. Here's my guide on "How to Spend 3 Days in San Diego." Ready? Set! Go!
Day 1
Assuming that you came in the night before, and you've got a full night's rest, we will start the day at 9am in Downtown, San Diego.
9am: Coffee and Breakfast at Brickyard Coffee. You're going to have to fuel up before you start Day 1 in San Diego. This neighborhood coffee shop is right by the Seaport Trolley station, and has a nice, large patio and great food and coffee. My favorite breakfast items are the Breakfast Bakes and the Acai Bowl.
9:30am: Now that you're buzzed from your coffee, it's time to hit the pavement. It will take you about 15 minutes to walk to our first attraction: The USS Midway: a retired US Navy aircraft carrier museum. It will take you about 3 hours to check this museum out. Make sure to watch my video on tips on visiting this museum.
12:30pm: After the museum, you may be ready for lunch. If you're starving, the Fish Market is right next door to the museum, and it really good and fresh. They have a patio outside overlooking the San Diego Bay. It's first come, first served when it comes to seating, and there is a limited menu in this section, but it provides for faster service and a more casual dining experience.
If you're not too hungry (or after lunch), I suggest you buy a ferry ticket, and head to Coronado Island. Keep in mind that the ferry leaves every hour on the hour at the dock next to the USS Midway. It's only a 15-minute ride, but you'll get incredible views of the working Navy ships, million-dollar homes, and the San Diego skyline. Once in Coronado, feel free to walk around The Ferry Landing where you'll find great restaurants, shops and galleries. I love Candelas restaurant. They have great Mexican-fusion cuisine, cocktails, and a killer view of Downtown, San Diego.
2:30pm: After lunch, you'll want to head to the Hotel del Coronado – the iconic, Victorian resort in Coronado. You can either take a taxi there, or the free Summer Shuttle (June-September). Once at "The Del", you can walk around the premises to the various shops, to the beach, or the Sundeck to relax, have a cocktail, and enjoy the Pacific Ocean views. You should also walk on Orange Ave. and Ocean Blvd. to get to know the neighborhood. There is beauty around every corner of Coronado.
5:00pm: Happy Hour! Stake happy hour offers the best views and deals on the island. On Sunday and Wednesday they have a live band on the patio starting at 6pm. You can continue in Coronado to watch the sunset, or head back to your hotel to get ready for the night.
8:00pm: Dinner in the Gaslamp is fun, hip, sexy, and delicious! Some of my favorite spots in the area are: Double Standard, Searsucker, Rustic Root, and Sushi Lounge.
After dinner, have fun walking around the area. You're bound to run into a bar or restaurant that has live music, dancing, sports, or entertainment – unless you want to visit a secret speakeasy-style bar. My favorite bar in the Gaslamp is Prohibition. They have live music Thursday-Saturday nights.
Day 2
9am: Wake up early, and head straight to Balboa Park for a nice walk amongst the trees and gardens. Here, you will find many museums such as the Air and Space Museum, The Museum of Man, and the San Diego History Center. You can also enjoy the world-famous San Diego Zoo. You can spend 3 hours at this park. If you get hungry, check out The Prado or Panama 66.
1:00pm: Drive to Old Town, and enjoy learning about the birthplace of California as you walk through the historic state park. Visit original adobe homes, one of San Diego's oldest cemeteries, and America's most haunted house. You might want to save your appetite, and eat here, because there are about 25 restaurants, and 90% of them are dedicated to Mexican food. You can have some incredible margaritas, and fresh Mexican food.   Check out Café Coyote, Casa Guadalajara, or Fiesta de Reyes.
4:00pm:  Mission Bay/Beach. Just 10 minutes away from Old Town, you'll enjoy some beach culture at Mission Bay. Rent a bike, and cruise around, or learn how to stand up paddleboard. There is even a mini amusement where you can enjoy rides and games. The beach and boardwalk are quintessentially San Diego, and offer the best spot for a picture perfect sunset. Before you know it, the sun will be down, and you'll be hungry again. There are many small eateries in this area, but I would suggest heading to Amplified Ale Works for good, fresh beer and great Mediterranean/Californian food.
You can stay in this area into the night. The nightlife at the beaches is really casual, so no need to get dressed up. Flip-flops, shorts, and tans are always welcome!
Day 3
Today, we are heading up to North County! Bring your swimsuits, because this day is all about exploring the Pacific Coast Highway.
10:00am: Take the I-5 freeway up to Encinitas, and head straight to the Self Realization Fellowship Meditation Garden. This garden is on a cliff overlooking the Pacific, and is gorgeous. Take in the views, take in some fresh air, and free yourself of all negative emotions and thoughts you may be carrying with you. Set the intention for the day, and see how happy you will feel throughout the day.
After your mini meditation, drive north to the town of Encinitas. I love stopping into Pannikin for coffee or tea. Enjoy your drink with some of the locals here. Next, head to the beach. Moonlight State Beach is really popular. If you walk along the beach, you're sure to find a nice area to layout in.
2:00pm: You've got some sun, and now it's time to hit the road down the coast on the 101 aka PCH aka Pacific Coast Highway. You'll pass the surfing town of Cardiff, Solana Beach, and Del Mar before you arrive to Torrey Pines State Reserve. Hike the trails at Torrey Pines, or go to the Torrey Pines Lodge to indulge on a gourmet, farm to table meal. If you don't want to do Torrey Pines, head into the village areas of the beach communities before arriving to Torrey Pines. Cedros Ave. in Solana Beach is fun for shopping, and the Del Mar Plaza is great for lunch and shopping, as well. You can also drive down to La Jolla Village and walk through the galleries or along the coastline where the seals and sea lions lay out.
6:00pm: As the sun begins to set, be sure to get a spot to watch it. I love Wind and Sea beach. You'll see many surfers catching the last waves of the day.
7:30pm: By the end of the day, I would suggest going to dinner back in the Village of La Jolla. I absolutely love The Med at the La Valencia Hotel. You'll find great, seasonal dishes here, a great view, and live music. It's pretty casual here, so you won't have to worry about your shorts and sandy feet in the lounge of this restaurant.
In a perfect world, you'd probably live in San Diego, but that's not always an option. Three days is just a tease, but as you can see, you can get a lot in in that time. I hope this is blog helps you plan your short-lived extended weekend!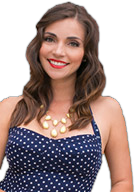 Bianca is a San Diego native, and prides herself on her knowledge of her city. As a professional tour guide, she offers food and drink tasting tours through her company: So Diego Tours. With 8 years in the tourism industry, she brings you updates on how to make the most out of your time, money and energy in her city.